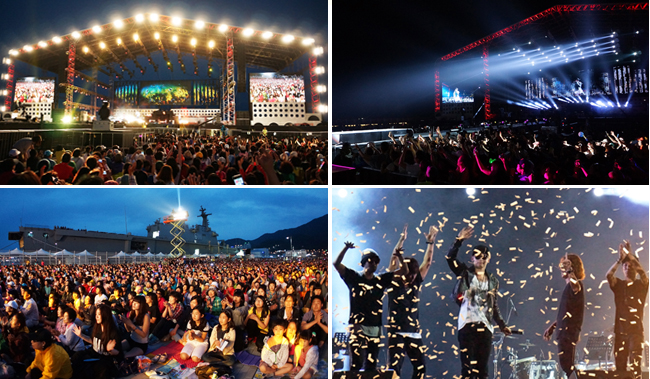 Photo courtesy of EXPO 2012 Yeosu Korea Organizing Committee
Starting June 16th, the venue for the K-pop concerts scheduled during the Expo 2012 Yeosu Korea period (May 12-August 12, 2012) will move from the Big-O Floating Stage to the K-pop Stage located near Gate 2 – Cruise Terminal.
The Yeosu Expo K-pop Concert series will resume at the new location with the Expo Pop Festival 1 featuring the global K-pop sensation, Rain. Subsequently, the series will present 10 more concerts featuring some of today's biggest K-pop stars such as SHINee, 2AM, 2PM, miss A, Super Junior, MBLAQ, CNBLUE and FT Island. All concerts begin at 8:30 p.m., and are free for the Expo visitors.
CNBLUE and Super Junior will perform on July 21, 2012

*Click image to enlarge*





Note : The K-Pop Concert Schedule is subject to change due to weather conditions or circumstances of the respective organizing committee.
More info
Expo 2012 Yeosu Korea K-Pop Concert


Time: 20:30 – 22:00
Venue: K-pop Stage (Gate 2 – Cruise Terminal), Expo 2012 Yeosu Korea
Admission: Free for Expo 2012 Yeosu Korea admission ticket holders

Expo 2012 Yeosu Korea Homepage: www.expo2012.kr
(Korean, English, Japanese, Chinese, French)

Expo 2012 Yeosu Korea Hotline: +82-1577-2012
(Korean, English, Japanese, Chinese)
Posted by yunhae@cnbluebeat