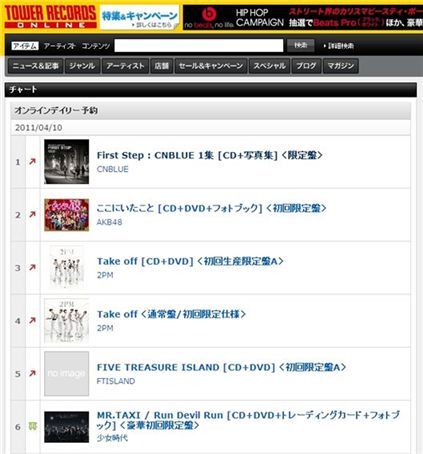 Rock band CNBLUE's album has topped the pre-order chart of one of the biggest music retail chains in Japan.
A press release by FNC Music explained today that the limited edition of the four-member band's first regular album "FIRST STEP" topped the pre-order chart of Tower Records Japan as of April 10, beating Japan's most popular idol group AKB48 down to second place.
CNBLUE's album, a special limited edition that consists of a 12-track CD and photobook, was released yesterday.
"FIRST STEP" has already swept charts at home, seeing over 100,000 copies of its regular edition sold and all 30,000 copies of the limited edition sold out on the day of going on sale last week.
Title track "Intuition," which sings of one's ominous intuition of being dumped by their lover, too has remained the No. 1 song on various major online charts in Korea for the past few weeks including that of Gaon and music cable channel Mnet, as well as televised music shows KBS' "Music Bank" and SBS' "Inkigayo."
"FIRST STEP" took the top slot on Taiwanese chart G-MUSIC's J-pop category for the week of April 1 to 7, ahead of the album's official release in the country.
CNBLUE has already made waves in Taiwan with their mini-albums "Bluetory" and "Bluelove" which previously won double platinum status in the country.
CNBLUE -- composed of members Jung Yong-hwa, Kang Min-hyuk, Lee Jong-hyun and Lee Jung-shin -- made their debut in Korea early last with their hit single "Alone" and mini-album "Bluetory" after releasing two singles in Japan.
Outside of their group activities, the boys have expanded their careers in the entertainment industry, appearing in dramas, movies and a number of variety shows.

Reporter : Heidi Kim heidikim@
Editor : Jessica Kim jesskim@
<ⓒ10Asia All rights reserved>